Our Rates & Services
Daily Resort Fees
Animal (dog rates are by weight)
Sept-May
Spring Break,
Holidays & Summer
Dogs (under 30 lbs)
$26
$28
Dogs (under 67 lbs)
$27
$29
Dogs (under 100 lbs)
$28
$30
Dogs (under 125 lbs)
$29
$31
Dogs (under 150 lbs)
$30
$32
Puppies (under 6 mos), Seniors (12+), Special Needs: walks included
$35
$37
Cats
$15
$17
• Multiple pets from same owner receive a $1.00 per pet discount!
• Sundays are charged at the regular daily rate.
• Checkout is Monday-Saturday, 1:00 p.m.
Resort Rates Include:
4-5 Play yard times of 15 minute duration in one of three 35' x 60' play yards, weather permitting.
Free Bath after a 10-day visit (subject to change).
---
Extra Attention at the Resort
Nature Walks
$6 (2 dogs, $10)
30 minute Swims


(includes drying)

$15
Medication
$1/dose; $5/dose insulin shots
Bath
$20-$65 (size/coat)
Nails
$15-$25
Daycare

(home visits)

$23
Obedience Training While Boarding
$65/day
Animal Acupressure
$65 (resort or home)
---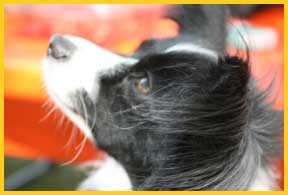 At-Home Day Care
Fees: $23 per hour.
Generally provided within a 30-minute radius of the resort. Please call with special requests. (Fees include drive time.)
---
At-Home Obedience Training
Fees: $50 per hour.
---
Pick Up and Drop Off
Please ask if this service is available in your area.
---
Hours of Operation
Monday-Friday: 8 a.m. - 1 p.m. and 3 - 6 p.m.
Saturday: 8 a.m. - 3 p.m.
Sunday: 7 p.m. - 8 p.m.
Closed Holidays
Sunday after a Holiday: 2 - 3 p.m. and 7 - 8 p.m.
Check Out Time
Monday-Saturday: 1 p.m.
Sunday: 7 - 8 p.m.
Sunday after a Holiday: 2 - 3 p.m. and 7 - 8 p.m.
All guests picked up on Sunday will be charged for Sunday.
Guests picked up after the Check Out Time will be charged for that day.
---
Vaccinations
Please have your pet vaccinated 10-14 days before boarding to avoid stress to the pet's immune system. Vaccination requirements follow those of your county. Please check with your county for their requirements. We accept vaccination titers. Please bring (or have your Veterinarian fax to: 815 385-0288) certification of the following from your veterinarian:
Dogs: Rabies, Distemper, Bordetella
Cats: Rabies (Note: Lake County requires rabies vaccinations. McHenry County does not.) , Feline Distemper, Negative Leukemia Test
Birds: None
Ferrets: None (However, it is suggested that to protect your ferret, you have them immunized for Distemper and
Rabies if they leave your home.)
Rabbits and small mammals: None
Reptiles: None
Pot Belly Pigs: None
---
Dog kennel, pet boarding serving clients in Chicago's northwest suburbs including McHenry County and Lake County in northern Illinois: Barrington (60010), Barrington Hills, Cary (60013), Crystal Lake (60012, 60014), Fox Lake (60020), Hawthorn Woods, Huntley (60142), Ingleside (60041), Island Lake (60042), Lakemoor, Lake Zurich (60047), McHenry (60050, 60051), North Barrington, Port Barrington, Prairie Grove, Round Lake (60073), Round Lake Beach, Tower Lakes, Volo, Wauconda (60085, 60087), Wonder Lake (60097) and Woodstock (60098). McHenry IL (northern Illinois) dog kennel providing for the care of special needs dogs (holistic treatments, homeopathic treatment, dog acupuncture, dog acupressure, dog massage, energy healing).